The South Asia Chapter (ASIS&T) has been granted the ASIS&T Special Project Fund of $7000 for the year 2021-22 on the project 'Dealing with COVID-19 and saving people's lives in South Asia (SA) areas & beyond - A health informatics promotion project'. The Chapter has set up a YouTube channel to host multilingual videos for disseminating awareness on a variety of topics on COVID-19 in the South Asia region. We have collaborated with the Asia Pacific Chapter and European Chapter to bring their experiences in dealing with similar viruses in the past. Through this channel, we propose to help in fighting misinformation and disinformation regarding COVID-19 information by citing accurate and reliable sources of information.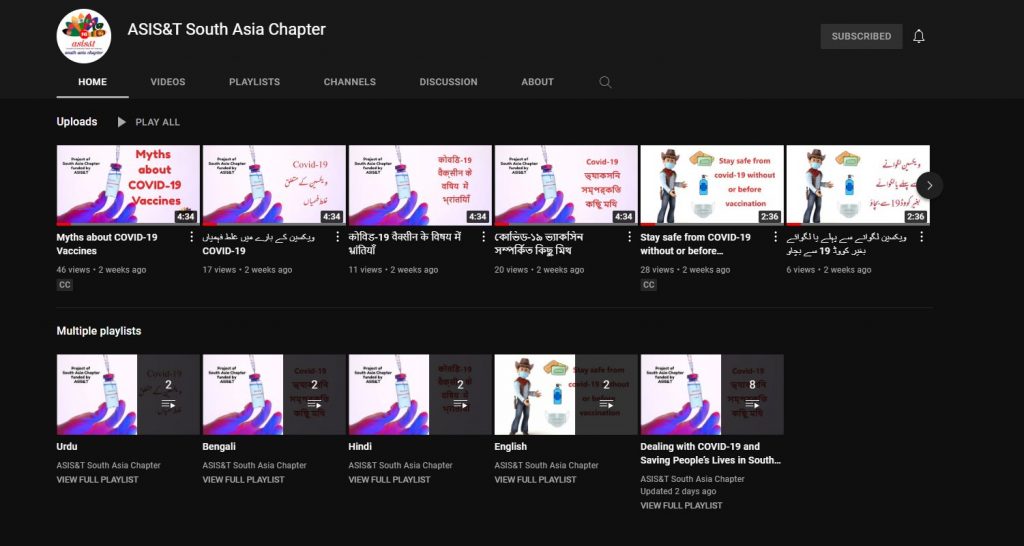 The goals of this health informatics project are:
To spread awareness about COVID-19 issues and behavior.

To share the experience of countries with experience of dealing with similar viruses. 

To help inform people by identifying pertinent topics to deal with COVID-19 highlighting the importance of reliable and accurate information.

To identify and share accurate and reliable information from authoritative information sources to fight misinformation and disinformation regarding COVID-19 information.
Through these videos, the Chapter will be able to reach out to the masses in the South Asia region highly impacted by COVID-19. The videos will help in spreading awareness about critical COVID-19 care precautions. The topics of the videos will provide accurate & reliable information thereby helping to fight misinformation and disinformation regarding COVID-19. These videos will act as a bridge connecting information with practice-  a core principle of ASIS&T.
A total of 10 videos on a wide range of topics related to COVID-19 such as 'Myths about COVID-19 vaccines'; 'Stay safe from COVID1-9 without or before vaccination'; 'Vaccine Facts: All you need to know about them'; 'Myths about COVID-19' will be added. These multilingual videos are available in five languages- Bangla, English, Hindi, Urdu, and Sinhalese. We further collaborate with the creator of 'Buddysaurus' to incorporate videos on the topic 'Things to do in self-isolation'. To capture the experiences of children during COVID-19 the project will organize a series of workshops that will culminate in a creative digital story writing competition in the South Asia region for primary and secondary school children.   
The project team has members from 5 countries representing both the Asia Pacific and South Asia regions:
 

Dr. Bhakti Gala is an Assistant Professor at the School of Library and Information Science, Central University of Gujarat, India. She is the current Chair of the South Asia Chapter of ASIS&T and has volunteered in many capacities for ASIS&T since 2014.  

Dr. Sam Chu is an Associate Professor at the Faculty of Education, The University of Hong Kong (HKU); Obtained 2 PhDs in Education – e-Learning from UCL & Information Science from HKU; Research areas: AI literacy, gamified learning & 21st Century Skills; Ranked among top 2% scholars in Information & Library Sciences and Education in the world; h-index of 38.

Dr. Md. Anwarul Islam is an Associate Professor in the Department of Information Science and Library Management (ISLM), Dhaka University, Bangladesh. He has been actively involved with ASIS&T since 2015, and now serving as Chair SIG-KM, Co-Chair-Elect SIG-III, and past chair of the South Asia Chapter of ASIS&T.

 

Dr. Syeda Hina Batool is an Assistant Professor in the Institute of Information Management, University of the Punjab, New Campus, Lahore, Pakistan. She did her PhD from ISchool, University of Sheffield, UK. Her research interests focus onexamining information literacy instruction and related literacies (health, digital, workplace, visual, media etc.), through qualitative research lens.

Ms. Helen Chan is the Professional Division Committee Chair (2021-2023) of the International Federation of Library Associations and Institutions (IFLA). Board Member of International Advisor, Journal of Librarianship & Information Science.

Dr. Raj Kumar Bhardwaj is presently working as Assistant Professor at Central University of Punjab, Bathinda. He is the recipient of the UNESCO fellowship for Information Management and the prestigious Commonwealth Professional Fellowship. He is also the Standing Committee member of IFLA.

Ms. Manika Lamba is a doctoral candidate at the Department of Library and Information Science, University of Delhi, India. She is currently serving as the Editor-in-Chief of the International Journal of Library and Information Services (IJLIS), the Chair of Professional Development Sub-Committee & Elected Standing Committee Member at IFLA Science and Technology Libraries Section, and Newsletter Officer & Webmaster at ASIS&T South Asia Chapter.

Ms. Prasadi Kanchana Jayasekara is working as a Senior Assistant Librarian at the University of Ruhuna, Sri Lanka. She is currently reading her doctoral degree in Information Systems at the Business School, University of Auckland, New Zealand. Her research interests include social media – information behavior, altmetrics and information literacy.
We acknowledge the participation of Crystal Fulton, ASIS&T European Chapter, and Jiban K Pal, Member, ASIS&T South Asia Chapter during our initial discussions.