Early Career Researchers and Scholarly Communication: Attitudes, Behaviours, and Challenges (Hosted by the ASIS&T Middle East Chapter)
This presentation will discuss the attitudes and behaviour of early career researchers in relation to scholarly communication and issues such as open science, peer review, publishing, metrics, and the use of social media in research. It focuses on the findings of two large studies (Harbingers projects) led by a team of international researchers that studied ECRs' scholarly communication before and during the pandemic using mixed methods (including longitudinal interviews and international surveys). The presentation will discuss the challenges that ECRs face in their research life and the current scholarly communication landscape, and whether they are or can be agents of change in scholarly communication. Learning outcomes: Learn about ECRs' behaviours and attitudes in relation to scholarly communication; about how the pandemic affected the work-life of ECRs; and what in scholarly communication can change to better support ECRs .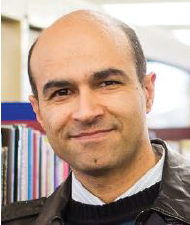 Dr. Hamid R. Jamali is an Associate Professor and Associate Head of School at the School of Information and Communication Studies at Charles Sturt University (Australia). He received his PhD in Information Science from University College London in 2008. His current research interests focus broadly on two areas of scholarly communication and libraries. In scholarly communication, his recent research included the study of ECRs's research life and local journal publishing. In relation to libraries his recent research includes various studies related to the value of public libraries and co-design of library spaces.
Can't join a webinar at its scheduled time? Don't worry!  
All webinar registrants will receive a link to the webinar recording after the event. All ASIS&T webinar recordings are also available for on-demand viewing from the Past Webinar Library on iConnect, the online community for ASIS&T members. If you need help accessing iConnect, contact Pamela Yonker at pyonker@asist.org.