Inside ASIS&T, December 2019
Dear ASIS&T colleagues,
I am honored to be a member of the ASIS&T community and to have your trust in serving as your President. In the coming year I will work alongside the Board and many of you who will be serving in leadership roles to strengthen and expand our community and advance our interests. Thank you for your commitment and contributions.
The vision of ASIS&T is to establish a new information professionalism in a world where information is of central importance to personal, social, political, and economic progress by: Advancing knowledge about information, its creation, properties, and use; Providing analysis of ideas, practices, and technologies; Valuing theory, research, applications, and service; Nurturing new perspectives, interests, and ideas; [and] Increasing public awareness of the information sciences and technologies and their benefits to society. In the coming year, how do we accelerate this vision not only for organizational transformation but social impact?
In our globalized and technology-connected society, we as an information community are keenly aware that what information people can access will either enhance their opportunities and lives or limit their potential and growth. ASIS&T is the touchstone for information practice, research, education and professional development and can play a critical role in building a sustainable world and transforming lives. This coming year, join me in advancing a three-pronged plan for organizational and social transformation, I am calling it "We are ASIS&T: Be, Belong, Become". This conceptual approach is informed by the Early Years Learning Framework.
BE: focuses on connecting with ourselves and each other, and contributing to not just ASIS&T but to Society (locally and globally). What are the opportunities to BE?
Join us for the 2020 Annual Meeting in Pittsburgh on October 23-28, 2020, which has the theme: "Information for a Sustainable World: Addressing Society's Grand/Global Challenges" Thank you to the members of the Annual Meeting Program Committee, co-chaired by Kendra Albright and Bharat Mehra, for their forthcoming work.
Participate in two new series at the 2020 conference: (a) an Industry Series that focuses on research and applications that involves industry participation; and (b) an Equity, Diversity and Inclusion (EDI) Accelerator series that focuses on information research and action designed to address EDI. The conference theme will allow us to explore, for example, the use of blockchain for food distribution in the Zaatari Refugee Camp in Jordan; or GIS projects such as Native Land that is mapping indigenous territories/lands, and creator Victor G. Temprano wants it "to plant a seed in settler consciousness and to encourage settlers to engage with Indigenous history and nations."
Act to advance the United Nations' Sustainable Development Goals (SDGs). At this year's conference, Kendra, Bharat and Jia Tina Du led a full-day international incubator to develop and create transformational actions using information to advance the SDGs. The results from this pre-conference workshop serve as catalysts for the ASIS&T membership and information community at-large to act locally or globally, personally or collectively, in the lead-up to the 2020 Annual Meeting and beyond.
We plan to register ASIS&T's commitment with the United Nations, and become a partner in advancing the SDGs.
A key aspect of sustainable development and a societal grand challenge is peace, so the ASIS&T community is invited to register and map our actions to advance peace on the Libraries for Peace portal, in partnership with the Mortenson Center for International Library Programs at the University of Illinois at Urbana-Champaign.
Resume Board review of and response to "Diversity and Inclusion in ASIS&T: A Report and Recommendations from AM16 Luncheon Discussion"
BELONG: focuses on a strong sense of identity. What are the opportunities to BELONG?
To strengthen our sense of belonging at ASIS&T and expand our community, we will increase opportunities for virtual engagement and exchange, and implement strategies to expand our membership. Please assist us in extending our outreach to Africa, Latin America and the Caribbean, and the Middle East.
BECOME: focuses on thriving. What are opportunities to BECOME?
Our current strategic plan ends in 2020 which means that we will be initiating a new strategic planning process that will be led by a task force, chaired by President-Elect Brian Detlor.
We will be implementing the Big Ideas approved by the Board, investing in our future, while fiscally managing our present.
These are just some of the activities to BE, BELONG and BECOME.  More information on will be forthcoming in ASIS&T communication.
I look forward to working collectively as an association and collaboratively with other organizations to reach our milestones. Before I conclude I want to thank my family, loved ones and friends for their support in the busy life I lead and professional work I do; the sponsors of this conference and other ASIS&T activities, our ASIS&T leaders and members, and our dedicated staff, Executive Director Lydia Middleton, Director of Membership Terrence Curtiss and, Director of Meetings & Events Cathy L. Nash. I would also like to congratulate the many award winners, whom we will be recognizing and celebrating tonight.
We are ASIS&T: Be, Belong, Become. Enjoy the rest of the conference, stay in touch throughout the year, and see you next October 2020 in Pittsburgh.
Thank you.
JASIST December Vol 70. No 12,
To access the ASIS&T Digital Library, you must be a current individual ASIS&T member or represent an organization with a site license (provided by Wiley). In the online library, you can browse all content by issue and table of contents, view abstracts and full text, and perform complex, full-text searches. Click this link and log on to the digital library to access JASIST.
If you experience any issues accessing JASIST or the ASIS&T Digital Library, please contact us here.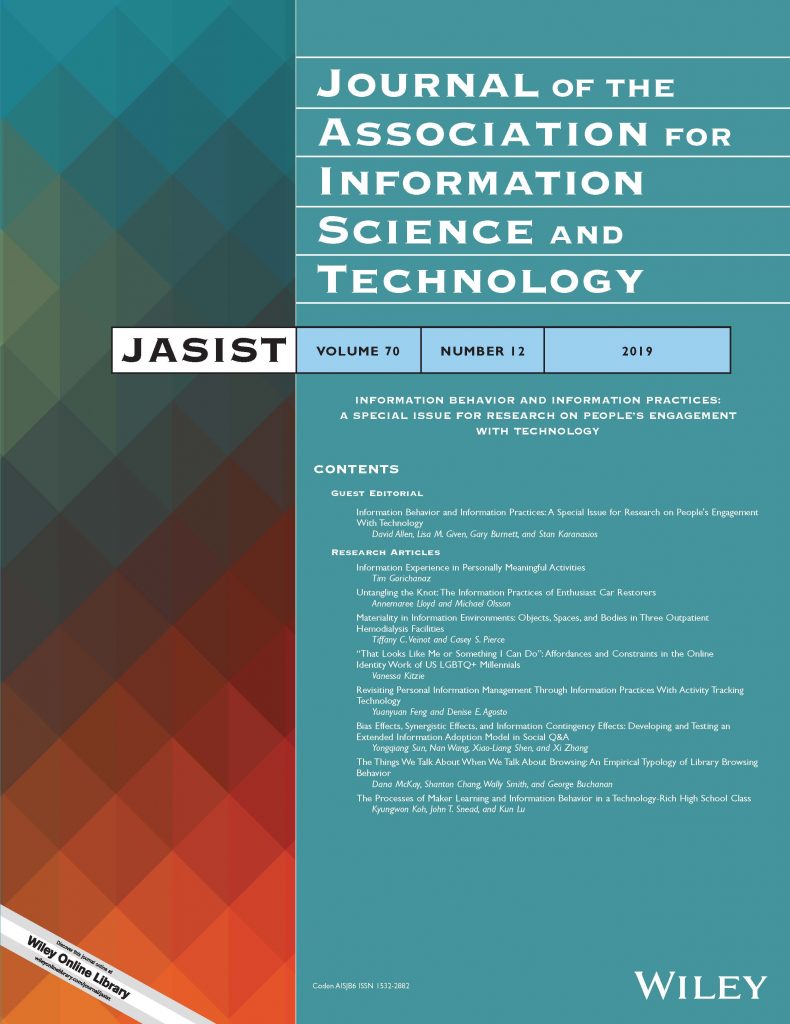 International Events Calendar