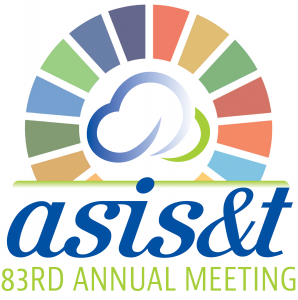 We are extremely excited that we are just a couple of weeks away from the 2020 Virtual ASIS&T Annual Meeting. This is new territory for everyone, so there has been a lot of work behind the scenes to ensure the same excellent quality you've come to expect from an ASIS&T meeting.  The virtual meeting has also allowed for a much more diverse program, with presenters and attendees from around the globe. We are happy to report that we expect record attendance, given that our current registration is almost at 600 individuals. Around 22 October, registrants will be emailed the link to join the live meeting. There will be instructions included as well. Staff will be available during the live event to assist you and answer any questions you have.
If you have not yet registered, please review the FAQs to learn what you will get out of attending this virtual meeting.
We are excited to announce that Housman Haddad will present the keynote speaker during the Opening Plenary on Sunday, 25 October from 9:00-10:30 AM EST.  Houman Haddad is the Head of Emerging Technologies at the United Nations World Food Program (WFP). Houman is the founder of WFP's "Building Blocks" project, which seeks to harness the power of blockchain to foster interagency collaboration and create efficiencies.
Building Blocks is the world's largest implementation of blockchain technology for humanitarian assistance, currently serving 500,000 Syrian and Rohingya refugees in Jordan and Bangladesh. Blockchain technology also has the potential to empower the vulnerable through financial inclusion and digital identities. Houman joined WFP in 2010 as a treasury officer and, prior to WFP, worked in Canada's banking sector.
In the aftermath of the killing of George Floyd, ASIS&T issued a Statement on Injustice and Standing with George Floyd, in which we stated that the information science and technology community and our association have a role to play in tackling racism and other forms of injustice. This year we restructured chapters into regions and a new regional chapter was formed, the Africa Chapter.  In the closing plenary, ASIS&T Chapter leaders will describe what their chapter is doing and/or considers critical in its work or in the region to advance the agenda, focused on information for a sustainable world.
These experts and regional leaders will share powerful ideas to tackle institutional racism or other systemic biases and other grand challenges, and how we can collectively advance sustainable development. The UN Sustainable Development Goals https://sdgs.un.org/goals will frame the dialogue. With information and technologies, we can expose injustices and offer solutions to create a more just, peaceful and sustainable world. This is an agenda setting session and a call to action!
We will have many opportunities for networking with morning and evening coffee, tea, and cocktail hours, as well as chat rooms throughout the meeting on a wide variety of topics.
SIG Rush is back by popular demand! Attendees will have the opportunity to learn more about the Special Interest Groups in designated chat areas held at various times during the Annual Meeting. Have a question about a specific SIG? Check the schedule to see when your SIG will be available to talk about what they're doing and how you can get involved.
Please be sure to review the conference agenda for the very latest schedule of presentations, speakers, and networking events. Events will be held at various hours from morning until evening in an effort to include as many attendees as possible to find sessions during their time zone. Each session will provide an opportunity for live Q&A with the presenters. If you miss a session, don't worry! For registrants of the full conference, sessions will be available OnDemand after the session is over.
This year we are debuting a new and dynamic way to view posters. These will be presented electronically and available for viewing throughout the conference and after, and the poster authors will set the times when they will be available for live Q&A.
It's not too late to register for Workshops and Tutorials which will be presented on a wide-range of topics. These sessions allow you to get an in-depth look at new subject matter and innovative topics in the information science field. They will be held Thursday, 22 October-Saturday, 24 October and Wednesday, 26 October-Friday, 30 October-Sunday 1 November. Workshops and Tutorials are offered as an add-on to the full conference or as stand-alone events. Conference registration is encouraged but not required.
ASIS&T will celebrate the diversity of cultural perspectives that we each bring in a new series called Equity, Diversity, and Inclusion Accelerator Series. The EDI Accelerator Series consists of invited sessions that critically engage equity, diversity, and inclusion in research, education, and practice, both locally and globally. This new series will be facilitated by thought leaders who will mobilize the ASIS&T community around urgent information issues such as indigenous knowledge, cultural misappropriation, prejudicial ontologies, counter-narratives, social media activism, civil rights and poverty tourism, transformative information justice, information and technology deserts, biased algorithms, information advocacy, among others. Each session will identify future actions to advance EDI in the information field.
The Industry Series (IS) consists of an invited session that highlights research and technical solutions being carried out in industry, some of which may be of a collaborative nature between academia and industry. The IS creates the opportunity for technical experts from the information industry (1) to bring their problems and ideas to interact directly with academics and practitioners, (2) to present how they support research, and (3) to engage in technical/research exchanges among academics, professionals and industry.
We would like to thank the following sponsors and exhibitors who have signed to help support this outstanding meeting: Emerald Publishing; Wiley; School of Information Sciences, University of Illinois at Urbana-Champaign; and the UBC School of Information.  We will also have many advertisers who will be published in our vendor directory.
As always, it pays to be an ASIS&T member.  Member registration rates are always lower than non-member rates. If you are not a member, now is a great time to join. Don't delay, register today!
The Proceedings will be available online by the start of the conference on 25 October.
We look forward to your participation in this new and exciting virtual meeting!
Looking forward to 2021, mark your calendars now for the 2021 Annual Meeting in Salt Lake City, Utah, USA, 30 October-2 November 2021.  Since we were unable to hold the 2020 meeting in Pittsburgh, PA, USA, we have selected that location for our 2022 meeting, to be held 29 October-1 November 2022.