Officers & Committee Conveners
2021-22 Executive Team
CHAIR – JELINA HAINES

Jelina Haines is a Filipino-born -Australian with an ancestral link to Indigenous Americas-Mexico. Jelina is a graduating doctoral student in Information Technology and Mathematical Sciences, University of South Australia. She has successfully submitted her thesis, which focuses on understanding the Indigenous Knowledge Journey' (IKJ) practices observed during the cyclical process of Elder's knowledge being created, synthesized, translated, and the ethical dissemination of cultural stories and communal activities within a social and cultural context. Having grown up both in the traditional way of life and the Western knowledge system, Jelina combined this knowledge and skills, excelling in academics and the arts field. She has spent more than 20 years working with the Ngarrindjeri Indigenous community in South Australia and later co-founded the Ngarrindjeri Eco Arts Coop (NEAC), implementing many art programs and exhibitions to generate revenue for the local artists. She is also the founder of the Philippine Literacy Backpack Project, supporting eight school kid children from marginalized families in her home country and supporting three children through World Vision for over 18 years.
She had accumulated many awards both in the academic and arts field. At the international level, her collaborative woven sculpture artworks are publicly held in a collection at LeHarve Museum, France, National Gallery Australia, South Australian Museum, and South Australia Maritime Museum. Her wearable artworks are privately collected in Australia, the UK, New Zealand, Canada, the USA, Japan, Egypt, Johannesburg, Russia, Sweden, Malta, Taiwan, China, France, and the Philippines.
Full access link to her CV: https://drive.google.com/file/d/12HEOOTO09GANRG8XR5_UJy250twx6nKY/view?usp=sharing
CHAIR-ELECT – PROFESSOR EMERITA SHALINI URS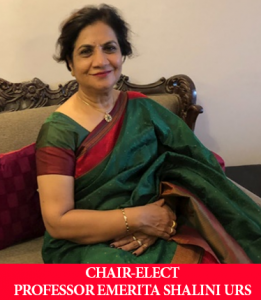 Professor Emerita Shalini Urs is an academic and an edupreneur and founder of MYRA School of Business. She has been a faculty at the University of Mysore since 1976. In addition, Professor Emerita Shalini Urs is an information scientist researching in the areas of Social Network Analysis. She believes in the power of technology to transform learning and bring about positive change. Believing in the power of education, She has taken the initiative to set up of two educational institutions--MYRA School of Business and the International School of Information Management. She is driven by excellence, commitment, and sincerity. She believes in equity and diversity. Her objective is to create world-class institutions preparing future leaders who will impact India and society at large. She believes that education should be elitist in its goal and egalitarian in its approach. She said that our duty is to offer equal opportunities, create a conducive environment, build appropriate learning systems to train, and produce professionals who will create a better world.Contact Information
1515, Aniketana Road, C & D Block Kuvempunagar
Mysuru, Karnataka 570023, India
09845112356 (Main)
shalini.urs@myra.ac.in (Work)
SECRETARY – SAPNA VERMA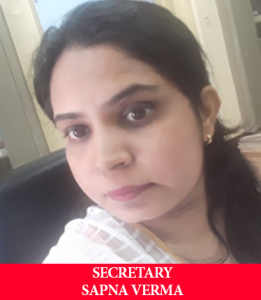 Sapna Verma (M.Phil,) is a PhD Research Scholar in the Department of Library and Information Science, University of Delhi and a working Librarian in a reputed leading college in Madhya Pradesh, India. At present, she is holding the following positions:
- Librarian in Government Post Graduate College (Academic Grade Pay- 6000) ;
- PhD Research Scholar in Metrics area (Department of Library and Information Science, University of Delhi-110007)
- Head (Library Section)
- Member (Research activities in my working College)
- Reviewer in many reputed journals and
- Supervised PGDLAN (Post Graduate Diploma iLibrary
and Networking) candidates in IGNOU (Indira Gandhi National Open University) for their Research Project.
Sapna has cleared the University Grant Commission- Junior Research Fellowship/ Senior Research Fellowship Examination under the Department of Education Ministry of Education. She also has various Fellowships and awards on her name in her academic journey. Moreover, she has also won the Best Research Paper Award in the National level Seminar. She has delivered many lectures and was invited as a Resource Person in various national level workshops and seminars in the area of Information Sciences and Research. In addition to being a librarian and a PhD Research Scholar, Sapna supervised and guided the students and faculty in different research areas.
Contact Information
C-39, Bhagwati Garden, Jain Road, Dwarka Mor, Uttam Nagar, New Delhi
, Delhi 110059, India
9990701296 (Main)
sapnaverma.du@gmail.com (Other)
TREASURER – DR. MOHD. MUZZAMMIL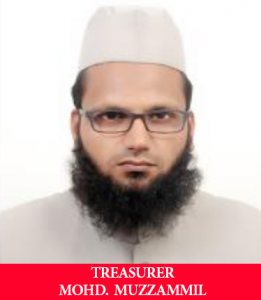 Dr. Mohd Muzzammil working as a school librarian under the Directorate of Education, Govt of National Capital Territory, Delhi.
Career Objectives
➢ To pursue a career in the field of Library and Information Science.
➢ To be associated with the University/Organisation that dynamically works towards the growth of the Library and
Information Science and gains satisfaction and thereof.
➢ To be associated with various International Organisations having the aim of Promoting LIS education worldwide
Experience
➢ Librarian in Directorate of Education, GNCT, Delhi, from 05/09/16 till now.
➢ Librarian of the Maulana Azad Muslim Teacher Training College, jodhpur, from 26/10/2012 to 11/05/2013.
➢ Seminar Secretary of Muslim University Library Science Students' Association, DLISc, AMU, Aligarh. (2010-11)
Contact Information
V-183, 4TH FLOOR, STREET NO 17, Near Shri DEV DHARAMSHALA, Vijay Park Maujpur Delhi-110053
Delhi, Delhi 110053, India
8279864393 (Main)
muzzammilalig@gmail.com (Work)
COMMUNICATIONS OFFICER – PETER ORGANISCIAK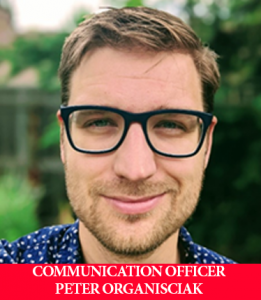 Peter Organisciak is an Assistant Professor in Library and Information Science at the University of Denver, USA. Peter's work is grounded in large-scale text analysis applications for digital libraries, as well as approaches to scholarship over sensitive datasets.
Peter Organisciak
Assistant Professor, Research Methods and Information Science, Morgridge College of Education
University of Denver
Email: Peter.Organisciak@du.edu
website: https://give.du.edu/about/faculty-directory/peter-organisciak
Contact Information
1999 E. Evans Ave.
Denver, CO 80208, United States - (617) 383-7674 (Work)
peter.organisciak@du.edu (Work)
WEBMASTER – Dr. MUHAMMET DAMAR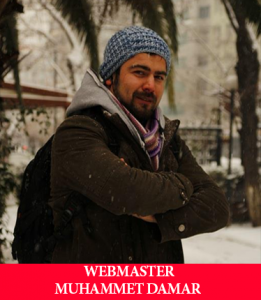 Muhammet Damar is a computer engineer and instructor at the Rectorate Information Center in Dokuz Eylul University (DEU) in Izmir, Turkey. He graduated MSc in Management Information Systems at DEU and MBA at Sakarya University. Moreover, he just finished DEU Graduate School of Social Sciences as a PhD. His research interests are decision support systems, information systems, data mining, scientometrics, process modelling, enterprise architectures, business intelligence, and system analysis design.
Contact details:
Muhammet Damar
Instructor, Information Center,
Dokuz Eylul University
email: damarmuhammet@gmail.com
Address: Dokuz eylul University Information Center Rectorate, Cumhuriyet Bulvarı No: 144 35210 Alsancak / İZMİR - TURKEY
CABINET REPRESENTATIVE: MANIKA LAMBA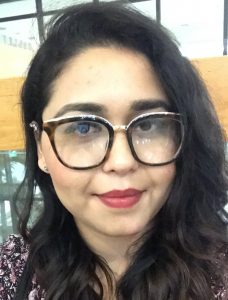 A biotechnologist turned information professional, Manika Lamba is a doctoral candidate in Information Science at the University of Delhi, India. She is an ICSSR Doctoral Fellow and is currently serving as the Editor-in-Chief of the International Journal of Library and Information Services (IJLIS), Newsletter Officer & Webmaster at ASIS&T South Asia Chapter, Secretary/Treasurer at ASIS&T SIG-OIM, and Cabinet Representative at ASIS&T SIG-DL. As the Chair of Professional Development Sub-Committee and Elected Standing Committee Member at IFLA Science and Technology Libraries Section, she actively organizes workshops to equip information professionals with new computational and digital skills. In addition to publishing scholarly articles, she has authored a book on Text Mining for Information Professionals and edited a book on Technological Advancements in Library Service Innovation. Her research focuses on information retrieval, digital libraries, social informatics, and scholarly communication using text mining, natural language processing, and machine learning techniques. She has worked extensively with textual data.
SOCIAL MEDIA OFFICER: TATHAGATA DHAR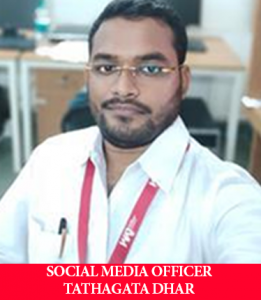 Tathagata is now employed as an assistant librarian at MVJ College of Engineering, Bangalore. He earned his graduation, BLIS, and MLIS degrees from the University of Calcutta. He also finished his MPhil in Library and Information Science from the University of Calcutta. He contributed six conference/seminar articles. Out of which, he presented one paper at the international conference of East-West University, Bangladesh. He also wrote one article in an international WOS indexed journal. His research interests are bibliometrics, scientometrics, webometrics, link analysis, meta-analysis, sentiment analysis, preservation, conservation, and digitization.
Contact details:
MVJ College of Engineering
Bangalore
Main: 8777082147
email: tdtathagata@gmail.com
Contact Information
Dhirendra Nath Chatterjee Rd
Kolkata, West Bengal 700058, India
8777082147 (Main)
tdtathagata@gmail.com (Work)
ARCHIVIST: PRIYA VAIDYA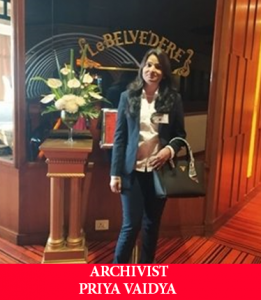 Ms Priya Vaidya is presently pursuing PhD from the Department of Library & Information Sciences, Aligarh Muslim University, Aligarh. She is a Senior Research Fellow (University Grants Commission), Gold Medalist and received PG Merit Scholarship while pursuing her Masters. Her area of interest includes the Service Quality Assessment of University Libraries. Apart from her thrust area, her interest extends to Library Management, Bibliometrics and Trends in ICT. She has few research publications to her credit particularly in Library Herald, IGI Pub., Routledge (Serials Librarian), and Journal of Librarianship and Information Science (SAGE Pub.), and KELPRO Bulletin (UGC-CARE List Indexed Journal). She has secured the first position in BEST STUDENT PAPER AWARD 2021 organized by KELPRO Bulletin. She has published and presented research papers at national and international conferences.
Ms Priya has completed various online certifications from Georgia Technological University, Coursera, Google, and Microsoft. In 2020, she attended and presented in an International Workshop conducted by IFLA (International Federation of Library Associations and Institutions) at Le-Meridien, New Delhi. In 2021, she has attended the first virtual World Library and Information Congress by IFLA. In 2019, she represented DLISc, Aligarh Muslim University at Dhaka, Bangladesh, where she presented her research article.
Previously, she worked as a Semi-Professional Assistant on leave Vacancy at Maulana Azad Library, AMU and handled The Seminar Library Automation Project using LibSys 7.0 (ILMS) at the Department of Petroleum Studies, Zakir Hussain College of Engineering & Technology, Aligarh Muslim University.
2021-2022 WEBINARS 
COMING SOON 

It will be announced here as soon as possible.
Thoughts About Officers & Committee Conveners