SIGUSE Member Survey Report
In autumn 2016, the Special Interest Group Information Seeking and Use (SIGUSE) developed and administered a member survey. We wish to thank everyone who responded on a range of issues, including the SIGUSE Symposium held annually at the ASIS&T Annual Meeting, awards, prospects for continuing education, and communication channels.
Download the report: SIGUSE Member Survey Report (PDF)
Information and Emotion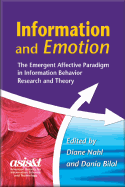 Diane Nahl and Dania Bilal, Eds., 2007.
Information and Emotion: The Emergent Affective Paradigm in Information Behavior Research and Theory
. Medford, NJ: Information Today, Inc.
The purpose of this book is to establish a focus on affective and emotional dimensions in information behavior (IB) research, based upon recent theoretical developments and research findings in information science, and the cognate fields of cognitive science, psychology, education, business, ethnomethodology, communication, and computer science. The affective paradigm established in this book traces its origins to early work in education and cognitive science. It introduces the new research areas of affective issues in situated information seeking and use, and the affective paradigm applied to IB in a variety of populations, cultures and contexts. It is primarily concerned with IB research findings on the user perspective, the user experience and how emotional aspects can be mitigated or enhanced through design that is informed by use and by users who directly participate in information design. [Read Testimonials]
Theories of Information Behavior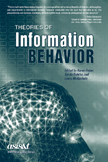 Theories of Information Behavior, Edited by SIG USE members Karen E. Fisher, Sanda Erdelez, and Lynne McKechnie, Published by Information Today, July 2005. All royalties from this book will be used for SIG USE activities.
[Purchase the book]
Have comments or feedback on the book? [Feedback Form]
A review of the book published in Webology
Listen to the archive of the first live webcast about topics in human information behavior research – Webcast date: Tuesday, 9/20/2005. Host: Sanda Erdelez, University of Missouri. Guest: Karen Fisher, U. of Washington, Chair SIG USE. [More info]
RefWorks Publication list for Sanda Erdelez, Karen Fisher and Stephanie Brown
Funding opportunities for research in information behavior
Kasparowski, R. (2005). Funding opportunities for research in information behavior. Bulletin of the American Society for Information Science and Technology, 31, 17-20.
In this paper Rafel Kasparowski, assistant librarian of electronic resources at University of Houston Libraries and a SIG USE member reviews the main discussion topics from the 2004 SIG USE Research Symposium.
SIG USE 2002 Bibliography
A bibliography of 2000-2002 publications by SIG USE members